This roleplay character belongs to User:Thefallensiennasky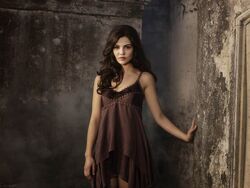 Location
Around. Heaven mostly.
"I was born in Heaven. I was born into a world where the Angels were ostracized by one of their own, so until now I never got to meet my father. So I want to make the world better by killing the Metatron."
—Keira on her life plans
Keira Gabriella Hunt as known as Keiriel by Metatron, is the daughter of Grace Hunt and Castiel. Born in Heaven, Keira is the first naturally born Angel. Granddaughter of Lucifer, she is an extremely powerful angel.
Section heading
Edit
Write the first section of your page here.
Etymology
Edit
The name Keira means a few things; like 'Princess' and 'Dark One' or 'Little Dark Haired One' or 'Dark Haired One'. Gabriella is from the name Gabriel, one of the seven ArchAngels and means 'strong of man'.
Ad blocker interference detected!
Wikia is a free-to-use site that makes money from advertising. We have a modified experience for viewers using ad blockers

Wikia is not accessible if you've made further modifications. Remove the custom ad blocker rule(s) and the page will load as expected.