This roleplay character belongs to User:Thefallensiennasky and can be found (bebo account) here.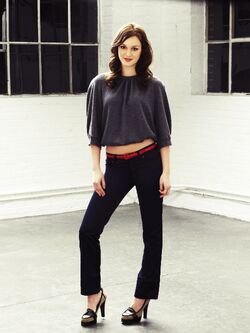 "I Could Have Stopped Him, I Could Have Saved Gabriel. What makes you think I can help you stop Lucifer?"
—Laura to Castiel, Bobby and Dean
Laura Grace Lowry is the biological daughter of the psychic Pamela Barnes and Jesse. She was raised by the Lowrys; Olivia and Owen, hunters that Bobby knew. Laura is also a psychic like her mother.
Background
Edit
Born Laura Grace Lowry, the daughter of psychic Pamela Barnes and her boyfriend at the time, Jesse. Having a vision during her pregnancy, Pamela released she couldn't raise Laura and asked Bobby to find her parents. Bobby introduced Pamela to Olivia and Owen Lowry, who had been trying for a child with no success. Pamela agreed to give them her unborn baby. Naming her Laura, Pamela said goodbye to her daughter and gave her to the Lowrys, who in turn raised her within a loving household until Owen's death when Laura was 16. It was then, Olivia told Laura that she was adopted and that she and Owen were hunters. Teaching Laura everything she knew, Olivia was proud when Laura decided to go to Duke on a scholarship. There she met Gabriel, the ArchAngel. On the eve of Laura's 21st, she had a vision of Olivia dying at the hands of the Witnesses. As she rushed to pack, Bobby called to inform Laura her mother had died.
Etymology
Edit
The name Laura comes from the Latin for 'Laurel-crowned'. The name Grace is also Latin and means 'Graceful, Blessed'.
Ad blocker interference detected!
Wikia is a free-to-use site that makes money from advertising. We have a modified experience for viewers using ad blockers

Wikia is not accessible if you've made further modifications. Remove the custom ad blocker rule(s) and the page will load as expected.