This roleplay character belongs to Kelsi and is roleplayed by Chelsie. Marietta is apart of The Slayer Academy group/genre, and can be found here
Marietta Vanderbilt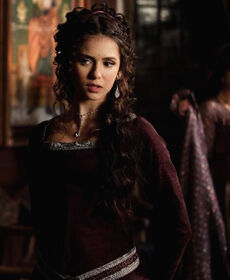 Information

Name
Marietta Vanderbilt
Aliases
Marie (modernized)

Status
Undead
Classification
Vampire
Human/Witch (formerly)
Known Relatives
Unnamed Father † (father)
Unnamed Mother † (mother)
Three Unnamed brothers †
Claudia Blackwood (Descendant)
Notable powers
In addition to having the common powers and vulnerabilities of a vampire, Marietta possesses many qualities unique to herself:


Superior hand-to-hand and weapons combat skills.
Fluency in several languages (such as English, Bulgarian, French, Italian, Spanish, German, Greek, Latin, Romanian and Russian).
Master of both physical and psychological torture.
Master schemer and manipulator.
Superior knowledge of demonology and history due to her long lifetime.
Experienced in witchcraft and sorcery, adept with glamours, rituals, and basic spells.
Photographic memory.

Portrayed by 
Nina Dobrev
-

THIS CHARACTER'S BIOGRAPHY IS CURRENTLY BEING WRITTEN OUT, AND WILL BE POSTED UP SHORTLY.
Marietta was born a Witch, but at a later date, she was bitten and turned into a vampire. Her Witch abilities stayed, but due to becoming a vampire, they became limited; when Marietta attempts a powerful or difficult spell, she's rendered temporarily vulnerable, becoming weakened. Marietta is the ancestor of Claudia Blackwood.
Biography
Edit
Early Life
Edit
Witch Trials
Edit
Vampire Life
Edit
Ad blocker interference detected!
Wikia is a free-to-use site that makes money from advertising. We have a modified experience for viewers using ad blockers

Wikia is not accessible if you've made further modifications. Remove the custom ad blocker rule(s) and the page will load as expected.