This character belongs to ChelsieLynn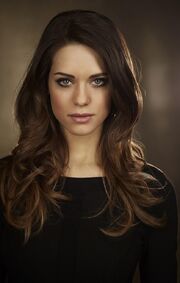 "I know what you are Dexter. If you think I'm here to stop you from killing him.. I'm not. I'm supporting you. I love you."
-Naomi Stiles to Dexter Morgan
Naomi Stiles
Edit
Naomi made her first appearence at the end of Season 2  Episode 2  "Waiting to Exhale" as Agent Lundy's partner and again at the end of Season 6 Episode 12 "This is the Way the World Ends" as a new Dective in Miami Metro. A year after she became Dective Stiles she was transdered from Salem to New York where she was partnered with Agent Lundy for 3 years. Lundy soon retired after that and went back to Miami in search of his "Trinity Killer". When Stiles heard of his death she blamed herself because he said he was chasing a ghost and it was a waste of time. Years passed and Stiles decided to transfer to Miami Metro Homicide. 
Early Life
Edit
Born on a cold night in October and raised in Salem, Massachuetts to Edward and Virginia Stiles. Her parents married young and were deeply inlove with each other ever since high school. Edward worked in a factory and Virginia worked in a barkery, when they found out Virginia was pregnant Edward quit the factory and joined the police academy. 
Growing up as the only child was hard enough, but when her mother is murdered right infront of her it tore Edward and young Namoi apart. </div>
Ad blocker interference detected!
Wikia is a free-to-use site that makes money from advertising. We have a modified experience for viewers using ad blockers

Wikia is not accessible if you've made further modifications. Remove the custom ad blocker rule(s) and the page will load as expected.